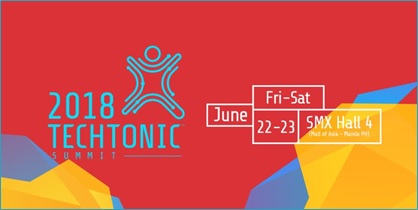 MocaApp will be joining the 2018 TECHTONIC SUMMIT-The largest tech gathering in Southeast Asia on June 22-23 at SMX Hall Mall of Asia-Manila PH.
Together with 10,000 pumped up attendees, 200 of the hottest startups, 100 top-notch global investors, and dozens of media partners join us to learn!
MocaApp the First and the only DIY Mobile App Builder in the Philippines today aims to provide thousands of attendees from the government, academe, corporate and startup community with their own Mobile Application.
Techtonic Summit 2018 is totally FREE! Bring your friends along and simply register at www.bit.ly/techtonicregister to attend!
Visit www.techtonicsummit.com to learn more. #TechtonicSummit2018